Here is a look back at hill country home sales in Kerr County. The graph above shows the average (green) and median (blue) single family home price, days on market (yellow) and total volume (red) of single family homes sold each year.
Like most of the country we have seen a decline in sales, though the real effect has been on total volume or the number of homes sold. As depicted home prices, while not yet stabilized, have not fallen in comparison to 2005.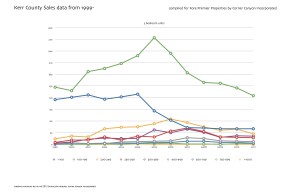 From 1999 – 2005 hill country home prices appreciated by over 50% and most homeowners still hold that equity today.
Another look at the Texas hill country real estate market is shown in the three graphs at right. These represent the number of two, three and four or more bedroom homes sold separated by major price points.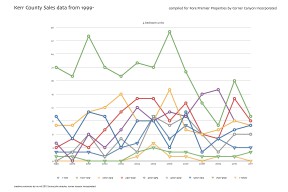 Most markets show a statistical preference for three bedroom, two bath homes. Our market is no different except that few four or more bedroom homes sell in any year. An interesting piece of these graphs is that it appears only two bedroom homes selling under $200,000 may have stabilized or started to sell in larger numbers. Three bedroom home sales even under $200,000 are still falling in numbers.
What I wrote in June of 2010 about Hill Country homes still holds, this is a great place for simply comfortable living-
Note: This data came from the Kerrville Board of Realtors® Multiple Listing Service (MLS) which suggests the homes sales reflected here are likely existing homes resold, rather than new home sales. A pdf version of this report is available for viewing or download here.